Participate in our Summer Survival League!
Unfortunately we had to cancel this promotion due to the lack of participators.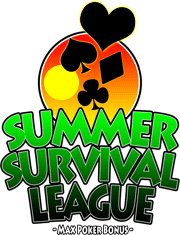 Didn't qualfy for the WSOP? Don't worry, because we are organizing our first poker league, the Summer Survival League, during the months of July and August. This league exists of a series of low buy-in events with extra money added to the prize pool. All games will be played at Titan Poker.
There will be one No Limit Hold'em Event every Wednesday night at 21:30 CET where you can earn points for the leader board. The top 10 players of July and the top 10 players of August will qualify for the final.
The Summer Survival League final will be played on the 2nd of September, when all qualifiers will compete against each other for a share of $1,000. A total of three prizes can be won, to be exact $500 for the winner, $300 for the runner up and $200 for the third.
In a nutshell: 8 qualification tournaments with totally $400 added to the pot + buy-ins. A total of 20 players will qualify for the grand final on 2nd of September where they will play against each other for a share of $1,000. All events will be held at Titan Poker.
Participating is simple! All players who sign-up (or have signed-up previously) through Max Poker Bonus will have access to the Summer Survival League events.
Best Poker Bonuses' Summer Survival League starts on the 8th of July and ends with a final on the 2nd of September. We will add an extra $50 to the prize pools of each event, on top of the buy-ins. You can find the entire schedule just below.
Wednesday the 8th of July: $1+$0.10 buy-in ($50 added)
Wednesday the 15th of July: $1+$0.10 buy-in ($50 added)
Wednesday the 22nd of July: $1+$0.10 buy-in ($50 added)
Wednesday the 29th of July: $5+$0.50 buy-in ($50 added)
Wednesday the 5th of August: $1+$0.10 buy-in ($50 added)
Wednesday the 12th of August: $1+$0.10 buy-in ($50 added)
Wednesday the 19th of August: $1+$0.10 buy-in ($50 added)
Wednesday the 26th of August: $5+$0.50 buy-in ($50 added)
Wednesday the 2nd of September: final ($1,000)
Max Poker Bonus has built up a superb partnership with Titan Poker, hence we can offer you the Summer Survival League. But that is not all we've got to offer! Did you know that we are among the few poker sites that have been granted an extended poker bonus? Our bonus is 50% better than average:
Titan Poker bonus offer: 50% up to $200
Other poker related sites' bonus offer: 100% up to $500
Max Poker Bonus offer: 150% up to $500