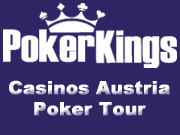 Since January, PokerKings has been holding online satellite tournaments giving players the chance to win free seats in the Casinos Austria Poker Tour (CAPT), which to date has hit sites in Bregenz, Salzburg and Innsbruck. The next CAPT event is in Velden, to be held July 11 - 18, and it is one of three remaining stops scheduled for this season's CAPT.
There is still time to win yourself a free seat in one of these remaining CAPT events through satellites at PokerKings. But you'd better hurry. They've only promised to run these satellites for this season's CAPT events through the end of June, 2010.
To win one of these remaining Casinos Austria Poker Tour seats - that's CAPT Velden, CAPT Graz, and the Poker EM (European Championship) - CAPT Baden - players have a choice of one of two daily PokerKings satellites to enter, with buy-ins, respectively, of €5 + €.50 and €3 + €.30.
The winners of these daily CAPT satellite tournaments gain entry into the weekly final, held on Sundays at 6:30 pm GMT for a direct buy-in of €32 + €3. The winners of these weekly CAPT satellites then advance to the monthly finals where the CAPT prize packages will be won. These monthly finals have a direct buy-in of €300 + €20.
There may only be one month left to get into one of three remaining CAPT events through a PokerKings satellite, but these satellites will be running all throughout the day, each and every day until the final CAPT satellite final.
CAPT Velden will take place July 11-18
CAPT Graz will take place August 24-29
Poker EM - CAPT Baden will take place October 4-14