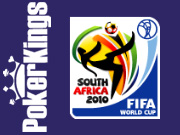 Online poker room PokerKings has just kicked off its Freeroll Goal-Fest promotion in league with the June 11 start of the 2010 FIFA World Cup of football.
The PokerKings Freeroll Goal-Fest is structured as follows:
Each night during the 2010 World Cup (that's from June 11 to July 11), PokerKings will be holding a World Cup Goal Fest Freeroll Satellite at 17:30 GMT on July 14 awarding the top fifty finishers in each free entry into an exclusive €10,000 guaranteed freeroll. The top 50 players from each satellite event wins entry into the Freeroll Goal-Fest Final on July 14th at 17:30 GMT.
In order to gain entry into the €10,000 World Cup Freeroll Satellite, a player must have completed a minimum of 10 raked hands of online poker at PokerKings over the 40 hours prior to the start of the given freeroll.
For every goal that is scored throughout the 2010 World Cup, PokerKings will add €25 to the prize pool. That's on top of the €10,000 already guaranteed. In the 2006 World Cup, 146 goals were scored, which if it happened this year would have PokerKings adding €3,000 to the prize pool. Watch the 2010 World Cup games as they happen to see how much will be added to the total guaranteed prize pool this year.
The World Cup takes place in Johannesburg, South Africa and sees the top 32 soccer/football teams from 2010 competing for the world's most prestigious title in the sport: World Cup champions.
The next upcoming opportunities to place your bets and take your chance at winning a share of €10,000 or more in the PokerKings 2010 World Cup Freeroll Goal-Fest are on matches between Brazil and North Korea, South Africa and Uruguay, and France and Mexico.