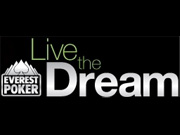 Launched in 2005, Everest Poker is a globally appealing online poker room that has attracted players from just about every corner of the globe (no US players). With 16 languages and multiple currencies to deposit and play in, Everest Poker has built a massive player base on the Everest Poker Network. Add to these offerings a series of valuable promotions, like the exclusive Live the Dream promo, and you've got a superior online poker room.
Everest Poker's Live the Dream promotion is giving 200 members the chance to travel the world, playing the biggest live poker events around the world, competing against the fiercest competitors in the professional poker circuit. 200 players will qualify, but only 10 will celebrate the ultimate prize – a one year, $100k Everest Poker live event sponsorship.
Interested? Thought so! The next step is to learn how to become one of the 200 qualifying players competing for the top 10 positions.