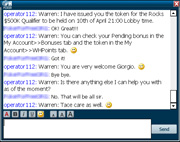 Chat Transcript
This morning, when I was working on my part of the William Hill Poker Review, I had an extremely pleasant experience. I contacted William Hill through live chat to get an answer to my question, because I needed to find the hand history feature within the William Hill Poker software to take a screenshot. After about two minutes, an assistant called Warren contacted me and actually apologized for the long wait. Uhum... seriously, two minutes is not a long wait buddy!
Anyway, Warren actually made me deposit, even though I still had some cash left to finish my part of reviewing William Hill Poker, the latest addition to Best Poker Bonuses and really didn't think about making a deposit. The deposit was well worth it, as I managed to get three tokens and an extra $20 on top of my $100 deposit. So for the time being, William Hill Poker is where I'll be playing online poker.
This totals a $100 first deposit bonus + $20 (which was added to my account just three minutes after I made the deposit) + three tokens (two freerolls and a satellite).
Thanks Warren from William Hill Poker, you've made my day!
I couldn't resist to copy the entire conversation and share it, so here you go:
operator112: Warren: I apologize for the long wait. We try to attend to all our players the quickest possible time. My name is Warren from the Online Support Team. I'll be glad to assist you with your concern now.
MaxPokerBonus: Hey Warren. I was looking for the hand histories. But I already found it, so no need for assistance at the moment.
operator112: Warren: Okay.
MaxPokerBonus: Take care.
operator112: Warren: I would like you to know our First Deposit Bonus offer. :)
MaxPokerBonus: Haha, I am very much aware of it.
operator112: Warren: Your first deposit will be rewarded with a generous 100% (up to $ 600) welcome bonus which will automatically go to your pending bonus balance redeemable by WHPoints.
operator112: Warren: :)
MaxPokerBonus: Got it. Thanks anyway.
operator112: Warren: If you deposit right now I can give you Instant Bonus. :)
operator112: Warren: How about that? :)
MaxPokerBonus: And how much is the instant bonus and the minimum deposit required?
operator112: Warren: I can give you an Instant $10 if you deposit $10. :)
MaxPokerBonus: That's great, I will make a deposit right away!
operator112: Warren: If you make it $20 I can give you $15 Instant. :)
MaxPokerBonus: Well, what if I deposit $20 and you'll match my deposit?
operator112: Warren: Make it $30 and I will give you $20. :)
operator112: Warren: Generous offer Giorgio. :)
MaxPokerBonus: Haha, nice try there buddy. I think I'll just go for the $10 then :)
operator112: Warren: That would still be great Giorgio. :)
operator112: Warren: :)
operator112: Warren: By the way, First Deposit Bonus money will be released to your account as you earn WHPoints. For every 700 WHPoints you earn, you will automatically redeem $10 from your bonus.
MaxPokerBonus: But that would be a shame to waste my FDP.
MaxPokerBonus: So what will you additionally give me for a $100 deposit?
operator112: Warren: You will get 3 tokens if you deposit $100. :)
MaxPokerBonus: + the $20?
operator112: Warren: Indeed! :)
MaxPokerBonus: Well, in that case we have a deal!
operator112: Warren: Great! :)
MaxPokerBonus: And the deposit is a fact!
operator112: Warren: Great! :)
operator112: Warren: Congratulations on your First Deposit Giorgio! :)
MaxPokerBonus: Thanks Warren!
operator112: Warren: You will receive free invites to $1000 New Depositors Freeroll held every Wednesdays at 18:00 server time and to New Depositors Freeroll held every Saturday at 18:00 server time and have a chance to win and choose among these prizes: LAPTOP / Sony Handycam / Sony PS3 game / Nintendo Wii game / Canon Digicam G9 / Samsung phone Omnia!!! :)
operator112: Warren: These two tokens will be issued to your account next Thursday. :)
MaxPokerBonus: OK
MaxPokerBonus: And the third?
operator112: Warren: I will issue you now the Instant Bonus and one token. :)
operator112: Warren: Please give me 3-5 minutes to do this. :)
MaxPokerBonus: Totally wonderful!
MaxPokerBonus: OK, I have received the bonus!
operator112: Warren: Thank you for waiting.
operator112: Warren: :)
MaxPokerBonus: Well, looking forward to some fun at the tables. Let's see if I still have some skills :)
MaxPokerBonus: Thanks a lot and take care!
operator112: Warren: I have issued you the token for the Rocks $500K Qualifier to be held on 10th of April 21:00 Lobby time.
MaxPokerBonus: OK! Great!!!
operator112: Warren: You can check your Pending bonus in the My Account--Bonuses tab and the token in the My Account--WHPoints tab. :)
MaxPokerBonus: Got it!
operator112: Warren: You are very welcome Giorgio. ;)
MaxPokerBonus: Bye bye.
operator112: Warren: Is there anything else I can help you with as of the moment?
MaxPokerBonus: No. That will be all sir.
operator112: Warren: You are welcome. :)