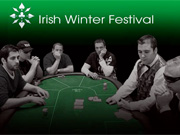 After Kurt announced the return of Irish Winter Festival at Titan Poker in one of his latter blogs, I am going to repeat it once more, and go a little more in-depth in the three ways - structure A, structure B, and structure C - you can take for qualification for this prestigious poker event to be held in Dublin, Ireland.
So, the Irish Winter Festival is coming back, on October 22nd through October 25th, and Titan Poker is offering its members many chances to win free seats in the big event.
Each €2,700 Titan Poker Irish Winter Festival prize package includes the buy-in to the main event (worth €1,650), a four-night stay at the Burlington Hotel in Dublin, Ireland (worth €280), and €770 for airline, handling, and spending cash.
Titan Poker has three satellite structures players can choose from to win their way into the 2010 Irish Winter Festival.