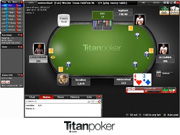 Titan Poker Mentor
Titan Poker has an invaluable resource tucked into its offerings for those willing to look. It's called the Titan Poker Mentor and it is literally an electronic poker mentor that will be by your side while you play at Titan Poker and teach you how to play better poker, personalising your learning to help you improve in the areas in which you most need improving.
The Titan Poker Mentor Odds Calculator, as it's fully called, is exactly that - an online poker calculator. Only this one is integrated directly into the Titan Poker software, making it inordinately more useful than a 3rd standalone odds calculator.
This new offering from the largest poker site in the iPoker Network will instantly reveal to you the correct odds ratio at every point in the games you play online at Titan Poker, so that you can be sure you're making the best possible move before you make it.
The Titan Poker Mentor Calculator scans the cards in your hand automatically, using complex mathematical algorithms that take into account multiple variables, like your position and folding depth, even your own particular style of playing poker, in order to calculate your current hand's odds of winning the pot. This provides players a clear and intelligent real time recommendation on how to act next in a hand.
Once you're already a Titan Poker member and have the Titan Poker software downloaded and installed, download the Titan Poker Mentor from the Titan Poker site and launch it. Then sit in at any Titan Poker table and as you are playing, you will see the Mentor automatically open, displaying all the handy real-time information you will need to make an informed decision.
The Mentor has a Main Bar Display and a Sidebar Window as well.
The main bar display of the Titan Poker Mentor shows your hole cards, a group diagram and a ranking diagram, both providing two different ways of ranking the strength your hole cards. This is pre-flop. Post-flop the same bar displays Outs and Win percentage.
The sidebar window displays helpful stats and info like "You vs. Best", Pot Odds, Outs, and Game Info. Customize the view of your Titan Poker Mentor and select which options you want to see through the Options tab.