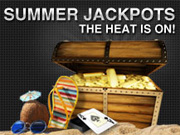 As of July 12, 2010, the biggest poker site on the iPoker Network, Titan Poker, is running a Summer Jackpot. Actually it's a wild carnival of summer fun with multiple promotions running side-by-side throughout the season, offering Titan Poker players a myriad of chances to win their share of a $125,000 guaranteed prize pool.
The Titan Poker Summer Jackpot is comprised of two different racing periods, the first running between July 12th and 29th (a period of 3 weeks), and the second running between August 2nd and 26th (a period of 4 weeks).
The $125K worth of cash prizes in the TitanPoker Summer Jackpot is split primarily into two Monthly Summer Races, seven Weekly Summer Races, and two Super Side Pots.
The $20,000 Monthly Summer Race awards the fifty top points earners tracked on the monthly leaderboard a share of a $20K prize pool. Two $20K prize pools are up for grabs, one each for the 1st and 2nd periods described above. The top 50 will be determined by best average daily ranking over the course of the 3-week or 4-week "month", respectively.