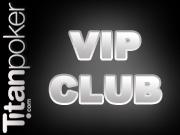 As the flagship poker site of the iPoker Network, Titan Poker would be expected to have a player loyalty and rewards program worthy of that banner. And as luck would have it, it does, in Club Titan.
Club Titan is billed by Titan Poker as "the world's most rewarding online poker VIP club". Whether it's the "most" of anything or not, it is certainly rewarding.
As with most poker sites' rewards programs, at Titan Poker's Club Titan you earn VIP points for playing in real money games at the site. They give 17 points per $1 in rake as a good general estimation of how many VIP points you can accumulate.
What Titan Poker does next with these VIP points is one of the things that distinguishes Club Titan from other poker sites' player rewards programs. If you can manage to earn enough points in any given month then you get to advance to a new level in the Club and earn a free VIP Points Boost as a bonus.
Depending on your VIP level, your points boost can range anywhere from 20% to 120%. VIP levels are (in order from entry level to highest status): VIP Bronze, VIP Silver, VIP Gold, VIP Platinum, VIP Titanium, VIP Diamond.
If, for example, you are in the VIP Bronze level, it means you've only earned 999 VIP points or less in the previous month, and your points boost is zero. But if you earn between 1,000 and 4,999 VIP Points in a given month, then you advance to VIP Silver status level and you start getting a 20% points boost. If, on the other hand, you are a VIP Diamond level player, it means you earned 35,000 VIP Points or more monthly and, because of that accomplishment, are given by Titan Poker a 120% boost on your points.
Club Titan Points can be cashed in for actual cash, with the rate varying as points redeemed increases. To give an idea of the range of cash rewards, for 2,000 points you can get $10 and for 7 million points you can get $120,000.