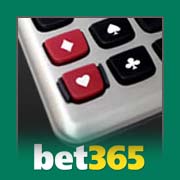 Poker players can be a funny bunch. Every poker player says they want to improve, but then many don't even make use of tools that are put right in front of the,
For example, bet365 Poker offers players a handy set of tools built right into the software called PokerPal. If we had to guess, however, we would bet that fewer than one quarter of all players at bet365 have ever even tried PokerPal.
Should you fall into the camp of players who have yet to make the most of the powerful tool bet365 has put at your disposal, here's a fast guide to the basic features of PokerPal at bet365 Poker.