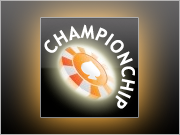 Every Sunday BestPoker hosts its weekly Big Deal ChampionChip Tournament, with a $250,000 guaranteed prize pool.
The BestPoker Big Deal ChampionChip $250,000 Guaranteed Tournament takes place every Sunday at 6 pm CET for a $190 + $10 direct buy-in. Alternatively, BestPoker offers numerous ways to satellite your way into the tournament for considerably less.
The Qualifying Structure for the Big Deal ChampionChip $250K Guaranteed Tournament includes 11 different opportunities.
Three of them are 20-player Sit and Go Qualifiers with buy-ins of $10 + $1, $20 + $1, and $30 + $3, each of which awards 1 ticket guaranteed in the Big Deal ChampionChip tournament. The $33 Sit and Go Qualifier also awards cash prizes of, respectively, $60 and $40 to the second and third place finishers.
Four of them are Mad Tilt Rebuy Qualifiers for buy-ins of $1 + $0.20, $2 + $0.25, $5 + $0.50, and $10 + $1, each of which award 5 tickets, 4 tickets, 10 tickets, and 10 tickets (respectively) into the $250,000 Guaranteed Big Deal ChampionChip Tournament.
Four more satellite opportunities are direct qualifiers, three of which have buy-ins of $10 + $1, $20 + $3, and $30 + $3, and each of which guarantees to award a single ticket in the Big Deal, and the fourth and final of which is a $5 + $0.50 Last Chance Qualifier that takes place on Sundays and awards 50 tickets into the Big Deal.
The Big Deal ChampionChip $250,000 Guaranteed Tournament is just one of the many guaranteed tournaments taking place regularly at BestPoker. The site also hosts a Canadian Daily with a $9K guarantee, a Russian Daily with a $7K guarantee, and an Aussie Daily with a $5K guarantee. There's even a $15K guaranteed Royal Tournament taking place weekly at BestPoker. Beyond that, a $100 Freeroll and a $500 Freeroll are among the other guaranteed tournaments on the regular schedule at BestPoker.