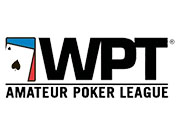 While there are many people who have lofty ambitions of becoming a professional poker player, this is not the dream for everyone. There are plenty of poker players that are happy to have some fun with friends or who will play to pass the time. As online poker becomes more popular in the United States, there is no doubt that there will be an increase in the number of professional and amateur poker players in the United States. It is inevitable that it is the professional players who will receive more of the publicity and promotion but there are also some great amateur players looking to get involved.
This is why the news that the website for the World Poker Tour Amateur Poker League, more commonly referred to as the WPTAPL, has been hacked will be of interest to many players. There is no doubt that when it comes to the US poker online community, a lot of people will be interested in this organisation or will have friends or associates who do.
The news of the hack was exposed when a twitter user, with the former account @smitt3nz, posted over 175,000 email addresses and the plain text passwords associated with these accounts to a website. While the site doesn't offer real money gaming options and there is no perceived threat of financial issues arising, it is understandable a concerning state of affairs for many people. One possible issue that arises could come from the fact that many people will use the same password for a number of sites. This means a player who has the same setup for other accounts may find that they are at risk.