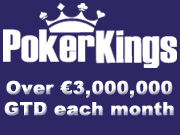 Each month PokerKings awards over 3 million Euros in guaranteed prizes. Some time ago we told you about PokerKings' €1,000 New Player Freeroll, but that only scratches the surface of the GTD events (that's online poker tournaments with guaranteed prize pools) PokerKings makes available to its players each and every month.
PokerKings hosts a Weekly €75,000 GTD event, with satellites into it running throughout each week prior to the event. The Weekly €75,000 GTD takes place each Sunday at 17:00 GMT. Satellites into the Weekly €75K GTD run daily in all different styles of play, from standard freezeouts to rebuy events, Lotto Frenzy events, Lotto Rebuy events and Turbo Satellite tournaments. Weekly €75K GTD Satellite buy-ins vary between €7.50 + €0.50 and €15 + €1. Additionally PokerKings runs a 10-seat guaranteed satellite into this event daily at 19:00 GMT for a €10 + €1 buy-in.
The daily GTD events hosted on PokerKings make up most of the €3 million monthly it guarantees. There are ten events each day, for example, each with a €3,000 GTD prize pool. Some of them are straight NL Hold'em, some of them are rebuy, turbo, or deep stack events.
Every day at PokerKings there's a €25,000 GTD at 20:00 GMT for a €50 + €5 buy-in, and a €10,000 GTD Rebuy event at 18:00 GMT for a €10 + €1 buy-in. The €3,000 GTD Deep Stacks event at 21:30 GMT has a €40 + €4 buy-in. At 24:00 GMT there's also a €3,000 high-roller event with a €50 + €5 buy-in.
The lowest buy-in of the daily PokerKings GTD tournaments is €0.10 + €0.01 which is for the €50 GTD Rebuy at 17:00 GMT. Next up in buy-in is €1 + €0.10 which is for the €1,000 GTD at 19:00 GMT. Then there are two events with €3 + €0.30 buy-ins, those being the €1,000 GTD at 19:35 GMT and the €1,500 GTD at 22:30 GMT on PokerKings. There's also a €5 + €0.50 event at 13:00 GMT, a €1,000 GTD Turbo event.